Umajin Solution Examples
The Challenge
Farming is a $130 billion industry in the US which is very dependent on the timely distribution of key inputs such as seed, fertilizer, and fuel. Farmers in the Midwest depend on agricultural coops for these supplies. Large amounts of material need to be delivered to the fields during the relative short planting season, which is determined by weather and soil conditions.
One important input for corn farmers is anhydrous ammonia fertilizer. A large coop may deliver almost a million tons of anhydrous ammonia during a few weeks in the Spring and Fall when soil temperature and moisture is in the optimal range for the nitrogen in the liquid ammonia to bind to the soil.
Anhydrous ammonia is delivered to the field in "nurse tanks" which the farmers pull through the field to apply to their crop. These tanks are then picked up by the coop and refilled. Delivering a million tons of ammonia in a window of a few weeks means many of the tanks make multiple round trips per day.
Farmers typically call when they need ammonia, and the delivery drivers often decided on delivery priorities based on their experience and relationships. They are forced to guess at when to pick up the tanks and which filling station would have the shortest lines. It wasn't uncommon for operations to start at 4 AM and not finish until Midnight. There was significant opportunity to reduce delivery cost, improve nurse tank utilization, and improve timeliness of deliveries.
The Solution
Working with a hardware partner, nurse tanks were tagged with sensors that could measure their GPS location as well as their level status and report this over a cellular network.
This data was captured by Umajin cloud servers. Real time location of the fleet of tanks could then be visualized on a map, and geofenced "triggers" would capture the time when a tank left or arrived a fill station or farm.
Once the level of a tank was measured as empty, and it was inside a valid geofence designated as a pickup/dropoff zone, it would then be flagged as ready for pick up. Farmers were able to track the status of their ammonia order as well as location in transit and updates on expected time of delivery.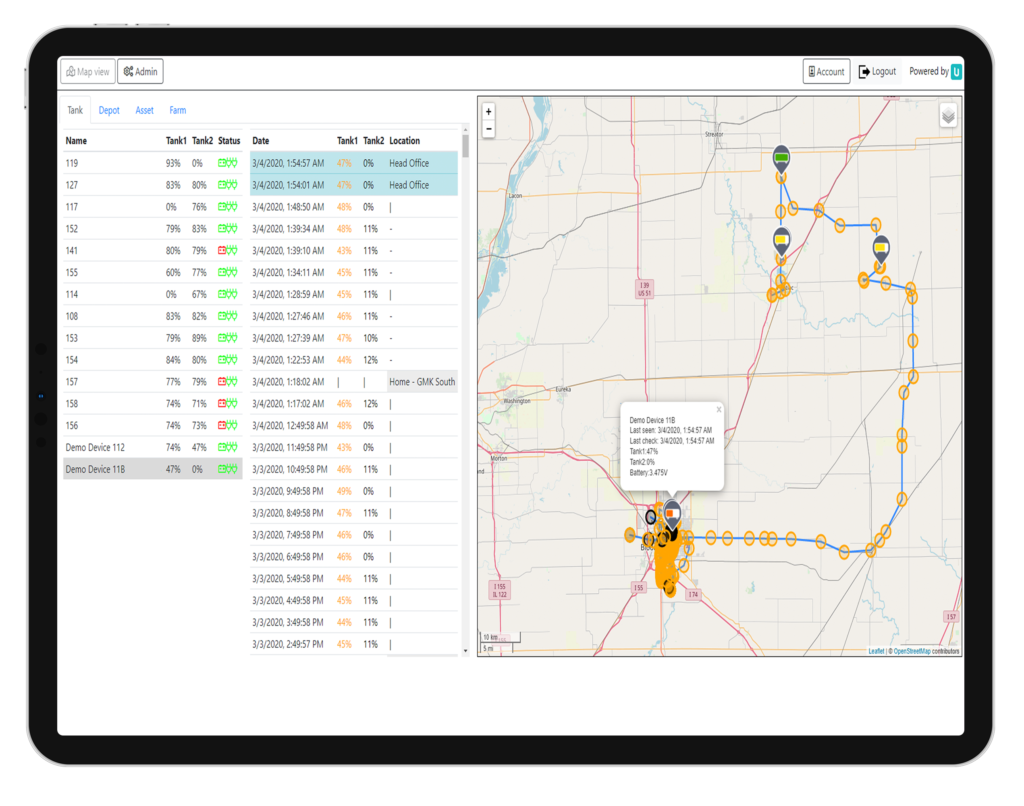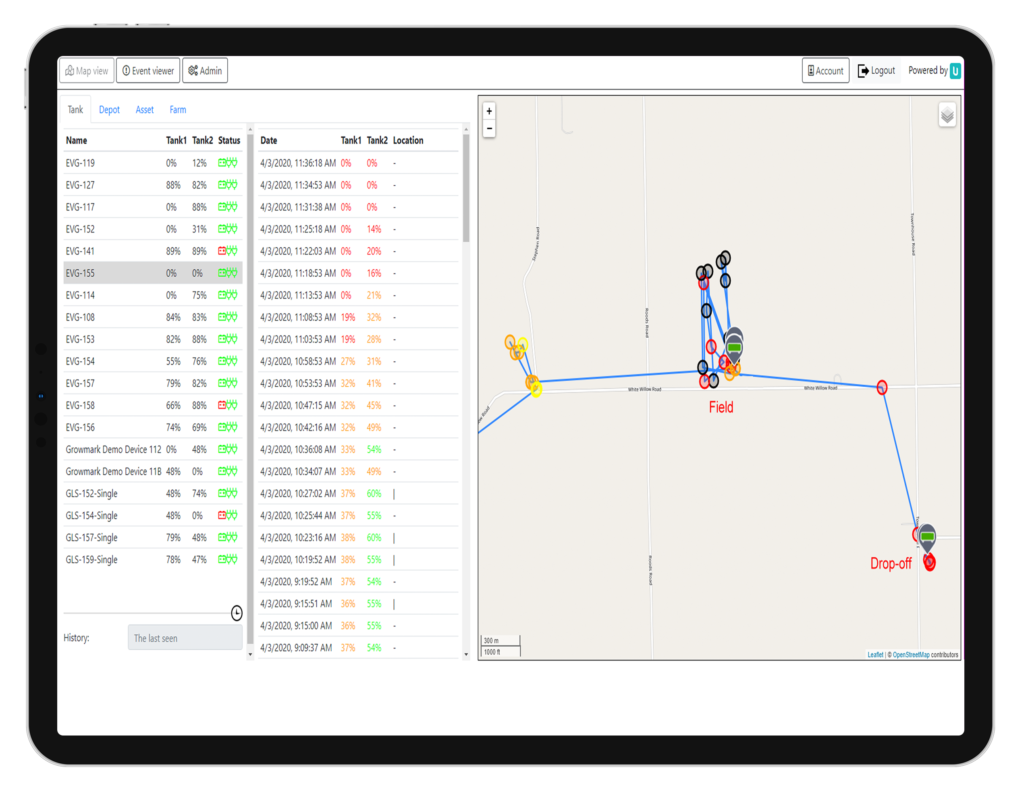 A central dashboard was provided to show the tank location, level status, order status, and route information.
The next phase was to analyze and optimize delivery requests. This uses tank location, level status, and queuing information at filling stations to determine the best route. This would be provided to drivers via a map route displayed on a mobile device.
The Value of Umajin
Solutions can be developed rapidly using prebuilt blocks of functionality that make it easier and faster to solve complex problems. For this solution the initial working prototype was available in less than a week. Umajin's high performance geofencing and spatial workflow supports custom solutions to manage scheduling and optimization tasks.
Umajin's software stack works with a wide range of partner hardware and can be used to track people, assets, and vehicles both inside buildings and outside. Data from devices including smartphones, IOT GPS sensors, and cell triangulation can easily be integrated, as well as sensor data such as tank levels, weight, power, temperature etc.
Umajin has a geospatial toolkit including location, geofences, routing, in both 2D and 3D. This toolkit helps with tasks like;
Evaluating destinations based on distance, average road speed, and wait time.
Managing complex delivery, scheduling and optimization tasks.
Umajin allows large volumes of real time GPS and ground enhanced GPS data to be checked if it falls inside a Geofence. Umajin Geofences support thresholding to reduce errors with variable GPS readings. This means assets in the field can be easily found, routed and scheduled.
Umajin supports a wide range of both 2D and 3D map technologies. Including, Google Maps, Google Earth, open street maps and multilayer custom tilesets. Umajin also supports 3D building CAD data and 3D photometric scans of buildings.
Umajin has a unique capability of translating GPS to illustrative map locations (think NYC subway maps)
I don't care about the plumbing of the IOT solution, I just want to know how much it improves my cost and customer service levels Head of Digital Transformation, Agricultural Coop
Value of the Solution
Location information combined with route optimization and workflow enables an increase in "tank turns", a reduction of delivery mileage (estimated total cost of delivery trucks is $7 per mile), and an increase of tanks that arrive at the farmer's field during the target delivery window.
Cost reduction pays for the solution in less than 12 months. It is expected that improved convenience and service levels will also drive an increase in market share.
Other Key Benefits of the Solution
The anhydrous ammonia solution demonstrates the value of location optimization solutions. The solution is expected to be extended to fuel delivery as well as warehoused products (large seed and crop protection chemicals). Warehouse products will also require use of Umajin's indoor location service.
The coop is just finishing a significant SAP installation. Tying the spatial solution into the SAP systems will provide end-to-end visibility of their material and logistics operations. This will provide the information required to improve purchasing, hedging of certain purchases, and prepositioning of material to benefit from cyclical price fluctuations.