Umajin Solution Examples
The Challenge
A chemical company with dozens of plants around the world has initiated an "Industry 4.0" program to drive digital transformation across their operation. One of the first objectives was to digitize the paper process used for "safety permits" within the plants.
OSHA requires companies to establish a process to disable machinery equipment during servicing and maintenance to prevent the release of hazardous energy (Lockout/Tagout). Best practice is to use an analogous "safe work permit" process to ensure that safe work practices are followed in all plant maintenance operations.
The paper-based safe work permit process used at the company was largely effective in its safety objective, but was very inefficient. It required workers to obtain and fill out paper documents, wait for approvals, and often spend two hours of a shift on these administrative activities rather than accomplishing maintenance tasks.
The Solution
Moving to rugged android tablets with a digital form allowed the safe work permit process to significantly reduce administrative time while also capturing information that allows systematic process improvements.
The company was required to keep physical paper copies of their work orders. The tablet app is able to scan the JD Edwards barcode from the paper form and initiate a digital workflow for a safe work permit.
The tablet app allows improvements to the information captured including photos with voice dictation, reducing data entry overhead.
Tablets are registered to a specific user with biometric identification allowing for sign off and authorisation to be efficiently performed on site with a user, location and time stamp added to these authorisations.
All safe work permits and sub permits (such as the line cut permit) are searchable, reusable and available for analysis.
A dashboard shows the safe work permits completed and in progress, providing insights into the opportunities for broader plant and process improvements.
Using the scanned JDE work order number, the report is then pushed back to JDE and to a document management system for archiving.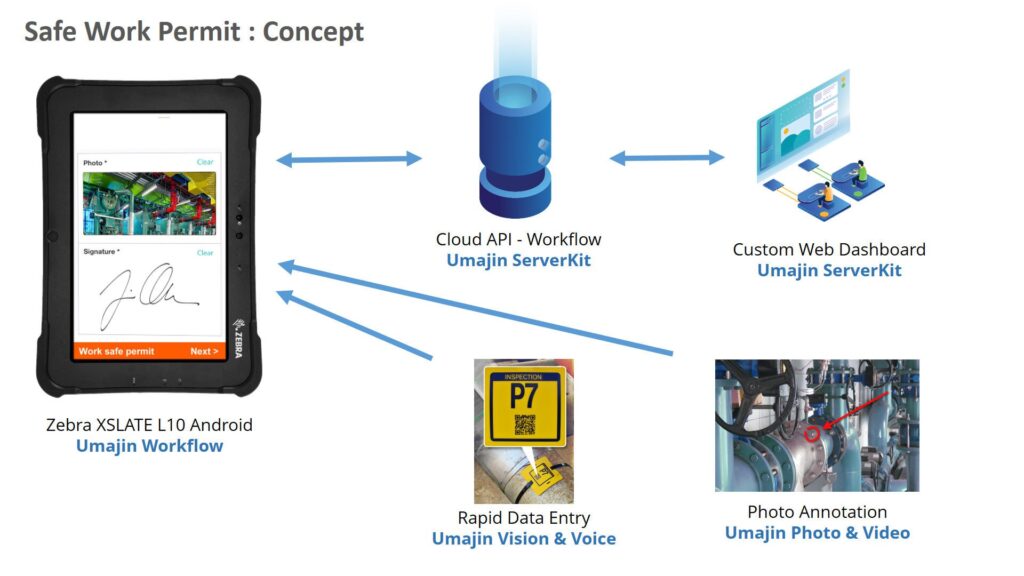 The Benefits of Umajin
The Umajin Platform allows a digital forms application like this one to be developed in less than a month, deployed in a pilot, and then refined. The multiuser visual editor allows a collaborative process with the plant safety and operation team to define the most effective process for each plant. The plant safety team then has the ability to use the visual editor to refine and update the application themselves as plant equipment or processes are changed.
The solution is designed to be modular, so additional features can be readily added using the Umajin platform once the basic workflow is validated:
Multiple types work orders are designed to support manual visual inspections. Many of these will be automated with smart cameras that provide real time condition reports and flag exceptions. Other smart sensors including temperature and vibration are planned to automate additional inspections. This is key objective in the "company's Industry 4.0 "journey".
Incorporating CAD drawing and other reference data and a video of how a work order is performed will facility training and propagation of best practices across plants. This especially valuable at plants with many retirements or high levels of turnover.
Value of the Solution
The initial benefit of the solution is in reducing the administrative cost of safety permitting, with a 50-75% reduction in employees time spent on the process.
The digital solution also captures an accurate history of each safety permit issuance, and allows analysis of best practices across plants of systematic process improvements. This has not yet been quantified but is expected to yield further reductions in both safety incidents and reductions in the administrative cost of the process.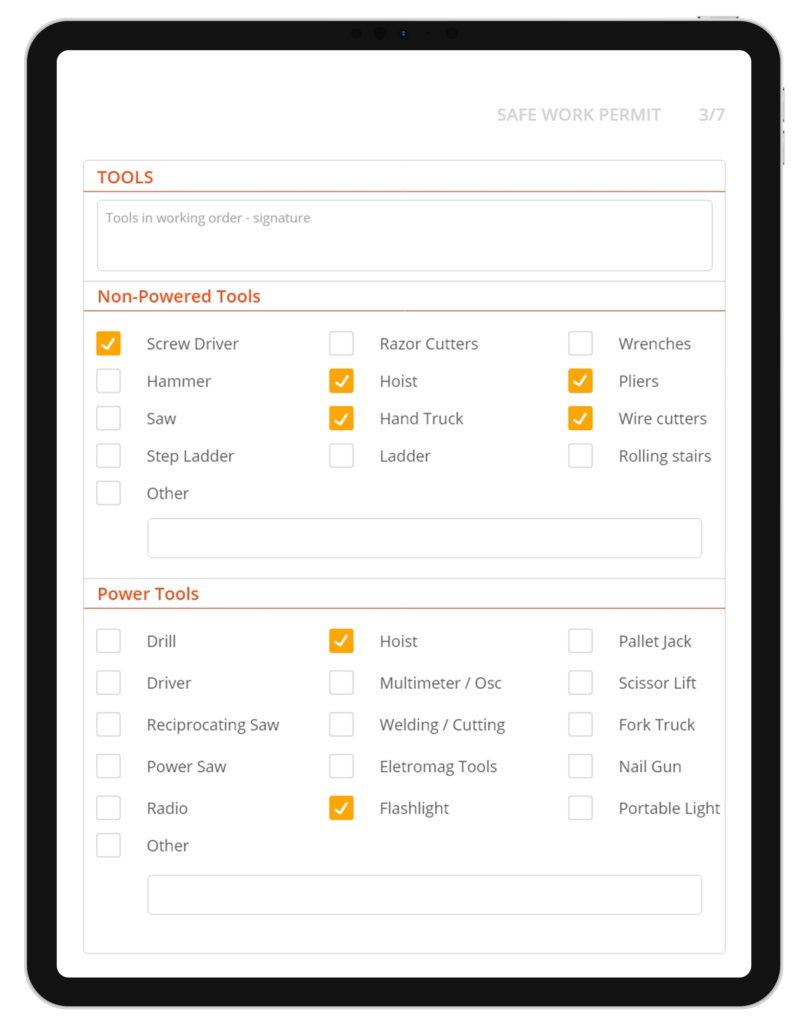 Other Key benefits of the solution
Previously, paper permits were filed away and often not looked at again. By capturing permitting information systematically, it is made available for other uses. The dashboard will ultimately incorporate trend monitoring and analysis using AI to help understand performance vs. target, preventative maintenance priorities, and other opportunities for continuous improvement. It also provides real time status about equipment that is offline for maintenance at all plants globally, which can provide an important input to the production scheduling process.