Umajin Solution Examples
Smart Health Diagnostic
The Challenge
Covid-19 has caused many organizations to implement policies for checking health status of individuals entering a facility as well as managing the use of meeting rooms and other shared spaces to ensure that social distancing requirements are maintained.
Often this is done using an ad hoc process, by having an employee manually check temperatures of individuals as they arrive, and assigning them to specific rooms. This process is both labor intensive and prone to error in data collection.
While some of these processes may be discontinued once vaccines become widely available in 2021, the value of public health protocols such as screening for infection has been established and is likely to continue in modified form post-pandemic in some settings.
The Solution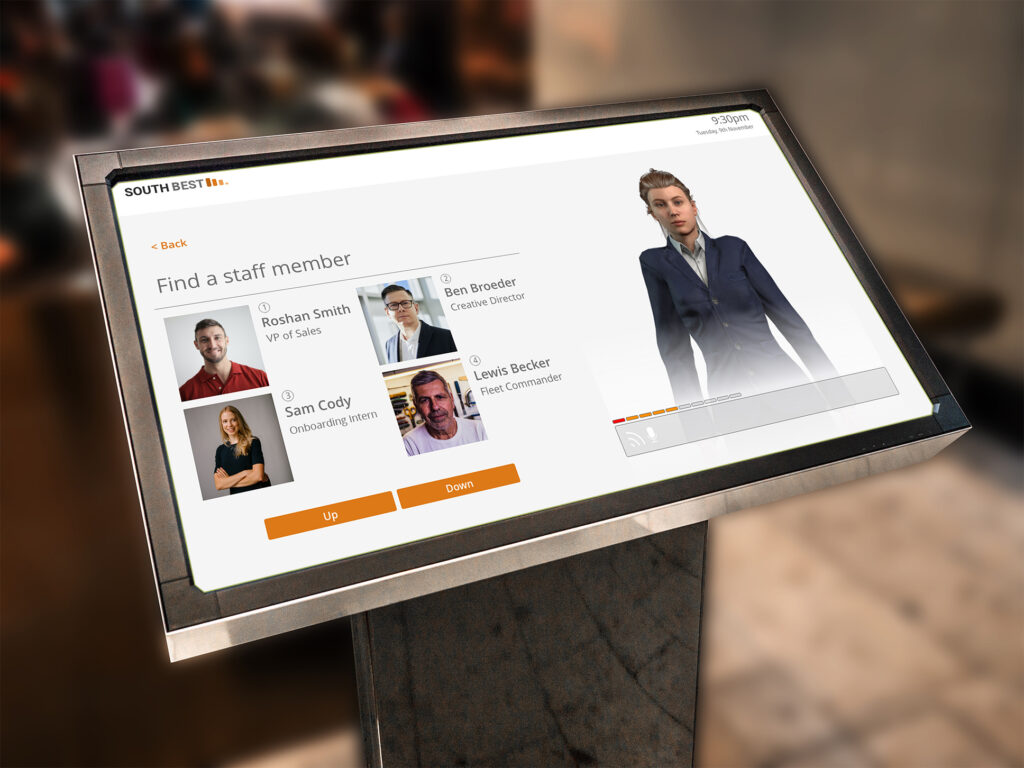 A kiosk that incorporates vital signs sensors and a digital avatar of a receptionist can greet visitors, inquire about health status and measure vital signs, and direct healthy visitors to the appropriate room in the facility.
The kiosk is branded for the appropriately for each facility, and the custom digital agent and voice interface provides a warm welcome and a professional visitor experience. Touchscreens have become a challenge during the pandemic, so voice and gesture allow the individual to control the experience without contact. By holding up a meeting QR code they have been sent they can immediately identify themselves to the system. If they are visiting without appointment they can use their own personal smartphone to enter their details and capture additional information, such as consenting to an NDA.
An integrated printer will then provide a photo badge listing the appropriate room to go to. Alternatively, the host can be notified if an escort is required.
The health status survey and vital signs that are measured can be configured based on the type of facility. Temperature is the most common vital sign measured, but in a sensitive facility such as a nursing home, both the survey and the sensors used can be more extensive. A pulse/oximeter is an important indicator of respiratory distress and will report signs before an increase in temperature. Additional information such as respiration rate can also be captured. The sensors requiring contact, such as the pulse/oximeter, are automatically sterilized with UVC LEDs. The kiosk has the capability of tracking longitudinal health data and flagging any negative trends for employees or other regular visitors to the building. It can also track testing status in situations where regular testing is required.
The kiosk provides a low cost, more complete, and more reliable way of monitoring health status of individuals within a building or facility.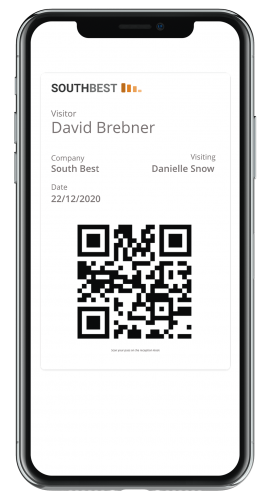 The Benefits of Umajin
Umajin's multi-experience application development platform was used to build the kiosk rapidly, and makes it easily customizable. Branding, custom digital avatars and voice interface, health status, and other visitor queries can be implemented at low cost and easily updated.
Umajin's cloud services can be used to capture data on the visitor log, current and longitudinal health status, contact tracing information, and other security information. Custom dashboards are easily developed to display aggregated data.
The Umajin kiosk can be rapidly integrated with existing HR systems as well as complementary Umajin solutions including a range of indoor location and mapping modules, contact tracing, as well as people flow tracking that can be used to monitor the inability to maintain social distancing in parts of the building.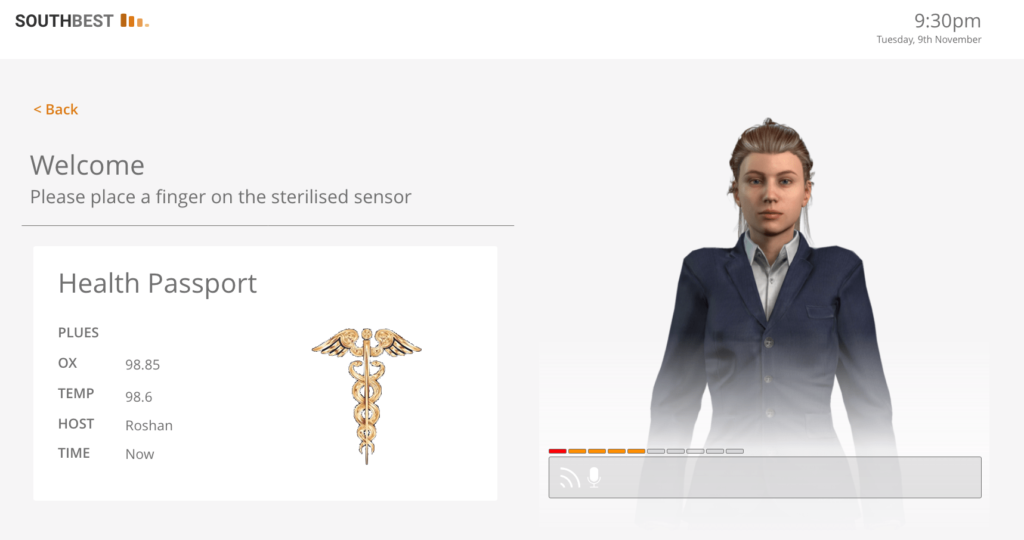 Value of the Solution
The SmartDiagnostic kiosk reduces the cost of managing building access, while providing systematic tracking of health status or other key security related metrics. It helps create confidence in visitors that the facility a safe environment, and provides the tools needed to efficiently respond to identified health risks.
The digital avatar and voice interaction is intuitive for visitors to use, and can provide a very personalized experience, creating a very positive guest experience.
Since the solution can be easily updated to change in environment or public health regulations—reverting to solely a digital receptionist/building access control solution if Covid recedes, or adding additional screening and tracking components if health risks become more prevalent.
Other Key Benefits of the Solution
The solution can readily incorporate telemedicine functionality for a corporate health department or in residential situation like schools or hospitality. The digital receptionist module can be easily replaced with a digital doctor, who interacts with an employee or hotel guest to take a more complete health history and measure additional vital signs, and then use these to triage individuals who may require additional health services. These individuals can be directly connected to a telemedicine provider, or scheduled for a visit to a corporate or hotel health department.
Other Solution Examples